The new Audi Q2 is based on the Modular Transverse Matrix (MQB), offering the front wheels up to 190 BHP from the time-tested 2.0 TFSI power plant. The fact that this four-cylinder engine can achieve more has been proven in other models of the VW corporation.
Zoom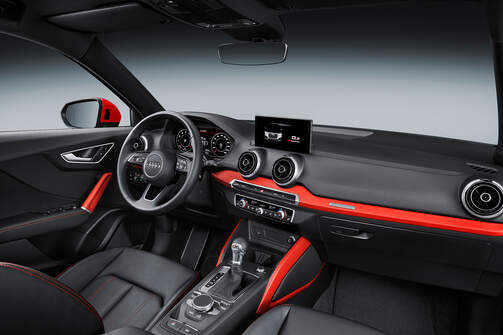 The cockpit would also be overhauled in an RS version.
Audi RS Q2 with up to 300 BHP
Examples include the Leon Cupra's 265 and 290 BHP versions, as well as the 300 BHP turbo from the Audi S3 or even the 252 BHP version fitted to the A4. We'd be surprised to see any less power than that in the hot Q2. As a result, the Golf GTI engines are probably out of the question.
The RS Q2 would certainly feature Quattro drive, fitted with a seven-speed dual-clutch transmission.
The aesthetics would be characterised by typical RS traits. A fat front skirt with Quattro markings, muscular side and rear skirts with the obligatory diffusor. Coupled with a reconfigured and lowered chassis, sports brakes and generously proportioned wheel-tyre combinations.
The RS Q2 could hit the market in 2017/early 2018.