It's a regular Saturday. The sun is shining, it's a comfortable 20 degrees, and the streets surrounding the Imperial Palace are blocked off – just as they are every weekend. The entire city of Tokyo seems to be out today, jogging, strolling, pushing pushchairs around the Emperor and his family, a swarm that reminds of bees in a meadow. But by no means is everyone in this city a fan of physical activity. Just a few blocks away on the wide avenue of Omotesando, bellowing engines make it apparent that this tranquillity and normality will not last the day.
Kittens and babies
And that's not just because of the collection of supercars that start lining up at the edge of the road shortly before 3 p.m. No. It's the people clambering out of them that make this somewhat abnormal. An oversized baby with a massive dummy smooths down a "Need for Speed" sticker on the bonnet of his Lamborghini Aventador – as if the shiny gold bodywork wasn't enough to make his approach to life abundantly clear. He is accompanied by a slim woman adorned in a tiger costume named Luna, who is absent-mindedly playing with her tail. Following her are a cruise ship captain – real name Shinichi Okada – accompanied by a stewardess and his Bentley Continental GT, as well as several Marvel superheroes.
Zoom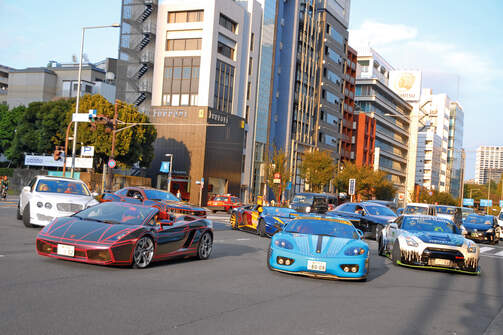 Up to 100 motorheads meet up for this parade.
What's happening here then? Well, for the last four years, this fast car club has been throwing a Halloween parade through Tokyo. Shinichi Morohoshi – now leaning on his Murciélago, dressed entirely in black and in a Darth Vader helmet – came up with the idea. "Supercars are our life", he says, as the first muscle car – a Chevrolet Camaro – pulls up. Morohoshi organises everything over the internet, and each year more and more take part in this big Halloween event. "We meet three to four times a week and drive around together. The Omotesando parade is definitely the highlight of our year though". "So, what do you do for work", I ask. "There isn't much time for work", he quips with a grin, before moving on to his next interview, arm in arm with a new arrival – Batgirl, wearing cat ears and holding the keys to her white Lamborghini Gallardo.
A nightmare for MOT examiners
Another of the almost 100 motorheads in the club is 37 year old Toshi Yoneda, who made his fortune with Japanese fast food noodle bars. Many members are involved in media or IT, with many others working in investment banking, such as Takeshi Hasebe. He is sitting on the bonnet of his Ultima Sport – a red kit-car with a Chevrolet six-cylinder engine. Back at home he also has a Koenigsegg, in case he has to get somewhere quickly. "Is this parade registered with the city?" I ask. Hasebe laughs and shakes his head. "If the police arrive, we will make a swift exit", he explains.
Around 30 luxury cars and supercars have amassed by now, of which several have been 'souped up' with added parts and flashing lights. MOT examiners would have a field day here. And then it happens – the police turn onto the avenue, at first examining the situation as they roll past the line of millionaires' playthings. The order is given, and the club members all rush to their cars, starting up their engines. The convoy sets off in a remarkably civilised manner, before proCee'ding to paralyse all traffic at the next intersection.
Police patience and (secret) pleasure
After all, the Halloween cruise wouldn't be complete without a group picture! And what of the police? They try to take us to task over parking in a no-stopping zone (as did the rest of the convoy, may we add). "Just another couple of photos and we'll all be gone", Hasebe assures the police, before jumping into his Ultima Sport and tearing off into the distance. We continue chatting with the friendly officials – not of the traffic violation but of the cars.